Event time:
Wednesday, November 8, 2017 - 3:00pm
Location:
LC 102
High Street
New Haven
,
CT
06511
Event description:
Women in Security: Does it Matter? A Panel Discussion; Wednesday, November 8th, 3 pm LC 102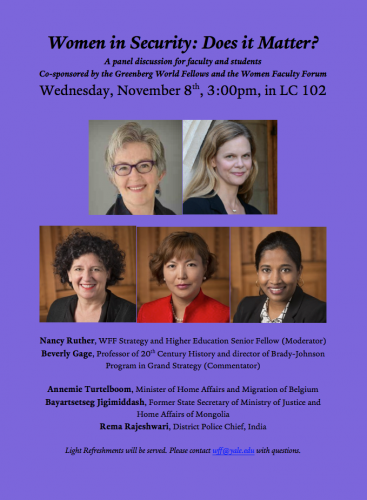 Please join the Women Faculty Forum and the Greenberg World Fellows for a panel discussion on the role of gender in security. Panelists, including Annemie Turtelboom (Minister of Home Affairs and Migration of Belgium), Bayartsetseg Jigimiddash (Former State Secretary of Justice and Home Affairs of Mongolia), and Rema Rajeshwari (District Police Chief of India), will speak from their experiences as women leaders in their respective fields. Nancy Ruther (WFF Strategy and Higher Education Senior Fellow) will moderate the discussion, and Professor Beverly Gage (Director of the Brady-Johnson Program in Grand Strategy) will provide commentary. We hope you'll be able to attend this exciting event on Wednesday, November 8th at 3 pm in LC 102. Please find the announcement for this event here.