Event time:
Wednesday, October 29, 2014 - 5:00pm
Location:
Linsly-Chittenden Rm 102
High Street
Event description: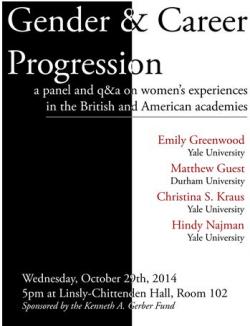 Panel discussion and Q&A about the experiences of women in the British and American academies. October 29th at 5pm in LC102. The event will springboard off a 2013 report by Matthew Guest, Sonya Sharma, and Robert Song on women's progress in British Theology and Religion departments to discuss women's experiences in Britain, America, and possibly Canada. One of the reports' authors, Matthew Guest, will be present to summarize the results while three Yale faculty will respond before we open the floor up to questions.