Thursday, April 13, WHC rm 208, 53 Wall St.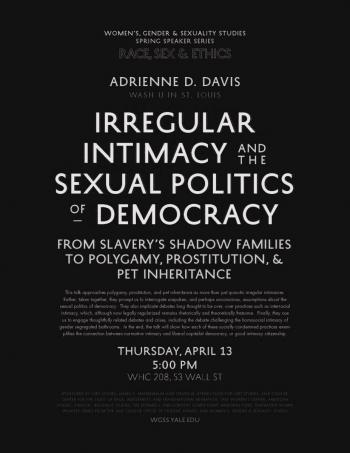 Adrienne Davis, Washington U St. Louis presents
Irregular Intimacy and the Sexual Politics of Democracy: From Slavery's Shadow Families to Polygamy, Prostitution, & Pet Inheritance
This talk approaches polygamy, prostitution, and pet inheritance as more than just quixotic irregular intimacies.  Rather, taken together, they prompt us to interrogate unspoken, and perhaps unconscious, assumptions about the sexual politics of democracy.  They also implicate debates long thought to be over, over practices such as interracial intimacy, which, although now legally regularized remains rhetorically and theoretically fretsome.  Finally, they cue us to engage thoughtfully related debates and crises, including the debate challenging the homosocial intimacy of gender segregated bathrooms.  In the end, the talk will show how each of these socially condemned practices exemplifies the connection between normative intimacy and liberal capitalist democracy, or good intimacy citizenship.  
Wednesday, April 5, 5pm WLH 309, 100 Wall St
Charles Lawrence and Mari Matsuda, University of Hawaii present
Fighting for an Abolitionist University: Critical Race Theory, Intersectional Feminism, and the Power of Ethical Narrative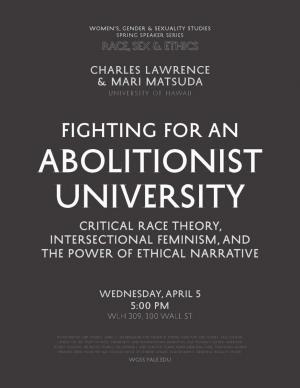 Wednesday, March 29, 5pm WLH 309
Michael Burroughs, Penn State University presents 
Learning to Listen: Childhood, Education, and Epistemic Injustice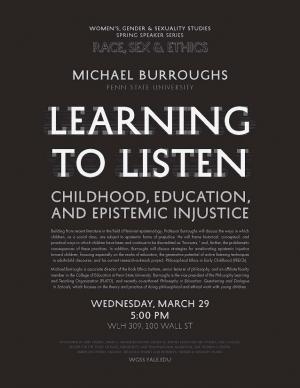 Building from recent literature in the field of feminist epistemology, Professor Burroughs will discuss the ways in which children, as a social class, are subject to epistemic forms of prejudice. He will frame historical, conceptual, and practical ways in which children have been and continue to be discredited as "knowers," and, further, the problematic consequences of these practices. In addition, Burroughs will discuss strategies for ameliorating epistemic injustice toward children, focusing especially on the realm of education, the generative potential of active listening techniques in adult-child discourse, and his current research-outreach project, Philosophical Ethics in Early Childhood (PEECh). 
At Penn State University, Michael Burroughs is associate director of the Rock Ethics Institute, senior lecturer of philosophy, and an affiliate faculty member in the College of Education. Michael is also the vice president of the Philosophy Learning and Teaching Organization (PLATO), a national non-profit organization that supports the introduction of philosophy and dialogical education in K-12 classrooms. Michael recently published a co-authored book (with Jana Mohr Lone) entitled Philosophy in Education: Questioning and Dialogue in Schools (Rowman and Littlefield, 2016). This book focuses on the theory and practice of doing philosophical and ethical work with young children and will serve as a vital resource for educators and philosophers working in K-12 classrooms. Michael has also published several articles and book chapters in the areas of community engaged philosophy, philosophy with children, ethics, education, critical philosophy of race, and social epistemology.