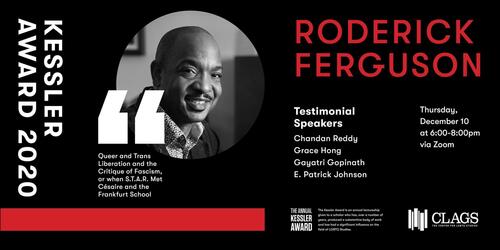 From the Center for LGBTQ  Studies at CUNY's Graduate Center (CLAGS) website:
CLAGS, the Center for LGBTQ Studies at CUNY's Graduate Center, is proud to announce scholar Roderick Ferguson as the winner of the 2020 Kessler Award, given every year to a scholar and/or activist who has produced a substantive body of work that has had a significant influence on the field of LGBTQ Studies. 
As is customary, Dr. Ferguson is scheduled to speak before accepting the award. Please join us in honor of Dr. Ferguson and his work to hear his Kessler Award speech entitled, "Queer and Trans Liberation and the Critique of Fascism, or when S.T.A.R. Met Césaire and the Frankfurt School."
A link to the event is forthcoming.