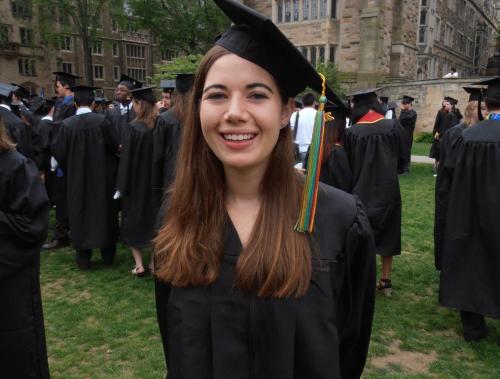 The James Andrew Haas Prize is awarded annually to "that member of the Senior Class in Yale College whose breadth of intellectual achievement, strength of character, and fundamental humanity shall be adjudged by the faculty to have provided leadership for his or her fellow students, inspiring in them a love of learning and concern for others." This year the Haas Prize is awarded to Joan English Gass of Morse College.
Joan Gass has exemplified qualities of courage and high moral purpose in her extraordinary efforts on behalf of others both on — and beyond — the Yale campus. After struggling to balance her faith with her sexual identity, she founded BRIDGES, Yale's undergraduate LGBTQ interfaith group. She has served as a Peer Liaison for both the Chaplain's Office and the Office of LGBTQ Resources. At the same time, she has worked tirelessly for social justice in Africa, co-founding Yalies Against Human Trafficking, working with Hope for African Children's Ministries, and forging connections with human rights activists in Uganda. 
As she graduates with Distinction in both International Studies and  Women's, Gender, and Sexuality Studies, we honor her academic achievements as well as her activism. Her senior essay won both the Steere Prize in Women's Studies and the GALA Senior Essay prize in LGBT Studies. One of her teachers hailed her as "one of the most extraordinary students I've had the pleasure to get to know in my 30 years at Yale."
For her outstanding scholarly accomplishments and her impressive record of public service, Yale College is proud to bestow the James Andrew Haas Memorial Prize for 2012 upon Joan English Gass.