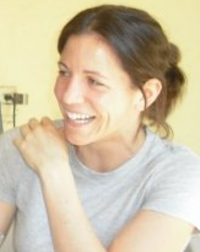 WGSS is delighted to welcome Liz Montegary to its faculty. Liz will be a Lecturer in WGSS for the 2011-2012 academic year. She recently completed a Ph.D. in Cultural Studies, with designated emphases in Critical Theory and Feminist Theory, at the University of California, Davis.
 Liz's  teaching and research interests include contemporary U.S. Lesbian and gay activism, feminist, queer and transgender theory, practices of travel and tourism, race, sexuality and citizenship, militarism and neoliberalism, disability and the body.  
She is currently revising her dissertation, "Queer Mobilizations: The Transnational Circuits of U.S. Lesbian and Gay Politics," into a book manuscript. She has also begun working on a second book-length project that examines the U.S. fitness industry with the aim of understanding how militarized technologies of power target the movements of bodies at the cellular level.  Liz will be a welcome addition to the WGSS faculty and, in addition to advising students, she will be teaching WGSS 296a, Introduction to LGBT Studies, WGSS 398b, Junior Seminar, WGSS 236b, Masculinity and Militarization, and WGSS 319a, Queer Mobilities.