Criminal Intimacy: Prison and the Uneven History of Modern American Sexuality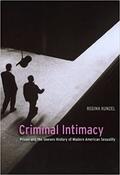 Sex is usually assumed to be a closely guarded secret of prison life. But it has long been the subject of intense scrutiny by both prison administrators and reformers—as well as a source of fascination and anxiety for the American public. Historically, sex behind bars has evoked radically different responses from professionals and the public alike. In Criminal Intimacy, Regina Kunzel tracks these varying interpretations and reveals their foundational influence on modern thinking about sexuality and identity.
Historians have held the fusion of sexual desire and identity to be the defining marker of sexual modernity, but sex behind bars, often involving otherwise heterosexual prisoners, calls those assumptions into question. By exploring the sexual lives of prisoners and the sexual culture of prisons over the past two centuries—along with the impact of a range of issues, including race, class, and gender; sexual violence; prisoners' rights activism; and the HIV epidemic—Kunzel discovers a world whose surprising plurality and mutability reveals the fissures and fault lines beneath modern sexuality itself.
Drawing on a wide range of sources, including physicians, psychiatrists, sociologists, correctional administrators, journalists, and prisoners themselves—as well as depictions of prison life in popular culture—Kunzel argues for the importance of the prison to the history of sexuality and for the centrality of ideas about sex and sexuality to the modern prison. In the process, she deepens and complicates our understanding of sexuality in America.