Enticements: Queer Legal Studies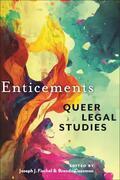 Provides a variety of queer, interdisciplinary interventions upon the social and legal regulation of sex,
gender, reproduction, and family.
In Enticements, an exceptional group of interdisciplinary scholars comes together to contribute to the field of Queer Legal Studies. The essays investigate a wildly proliferating assortment of genders, sexualities, and intimacies, questioning how they have been regulated, criminalized, or privileged by law and other regulatory forces.
Enticements expands and expounds on the discipline of queer legal studies. Contributors focus on a wide range of sex/gender regulatory regimes, interrogating the use and abuse of queer history for impact litigation and social change, colonial and postcolonial sex laws otherwise obscured by the modern LGBT paradigm of sexual identity, and the policing of trans and cis men. Moving beyond a focus on LGBT identities, contributors consider limits to reproductive freedom, the Christianization of social justice movements, and the politicization of care within and across Black and feminist studies. Accessible and forward-looking, Enticements consolidates and emboldens queer legal studies as a critical, necessary field for the historical present.
With noted contributions from Libby Adler, Chris Ashford, Matthew Ball, Noa Ben-Asher, Mary Anne Case, Brenda Cossman, Joseph J. Fischel, Janet Halley, Zachary Herz, Ratna Kapur, Ido Katri, Evelyn Kessler, Ummni Khan, Kyle Kirkup, Jennifer C. Nash, Senthorun Raj, and Matthew Waites.