Fallen Women, Problem Girls Unmarried Mothers and the Professionalization of Social Work, 1890-1945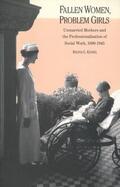 During the first half of the twentieth century, out-of-wedlock pregnancy came to be seen as one of the most urgent and compelling problems of the day. The effort to define its meaning fueled a struggle among three groups of women: evangelical reformers who regarded unmarried mothers as fallen sisters to be saved, a new generation of social workers who viewed them as problem girls to be treated, and unmarried mothers themselves. Drawing on previously unexamined case records from maternity homes, Regina Kunzel explores how women negotiated the crisis of single pregnancy and analyzes the different ways they understood and represented unmarried motherhood.
Fallen Women, Problem Girls is a social and cultural history of out-of-wedlock pregnancy in the United States from 1890 to 1945. Kunzel analyzes how evangelical women drew on a long tradition of female benevolence to create maternity homes that would redeem and reclaim unmarried mothers. She shows how, by the 1910s, social workers struggling to achieve professional legitimacy tried to dissociate their own work from that earlier tradition, replacing the reform rhetoric of sisterhood with the scientific language of professionalism. By analyzing the important and unexplored transition from the conventions of nineteenth-century reform to the professional imperatives of twentieth-century social welfare, Kunzel offers a new interpretation of gender and professionalization. Kunzel places shifting constructions of out-of-wedlock pregnancy within a broad history of gender, sexuality, class, and race, and argues that the contests among evangelical women, social workers, and unmarried mothers distilled larger generational and cross-class conflicts among women in the first half of the twentieth century.