Sex and Harm in the Age of Consent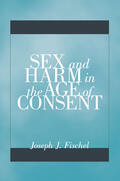 Sex and Harm in the Age of Consent cautions against the adoption of consent as our primary determinant of sexual freedom. For Joseph J. Fischel, consent is not necessarily always ethically sound. It is, he argues, a moralized fiction, and it churns out figures for its normativity: the predatory sex offender and the innocent child.
Examining the representation of consent in U.S. law and media culture, Fischel contends that the figures of the sex offender and the child are consent's alibi, its negative space, enabling fictions that allow consent to do the work cut out for it under late modern sexual politics. Engaging legal, queer, feminist, and political theory, case law and statutory law, and media representations, Fischel proposes that we change our adjudicative terms from innocence, consent, and predation to vulnerability, sexual autonomy, and "peremption," which he defines as the uncontrolled disqualification of possibility. Such a shift in theory, law, and life would be less damaging for young people, more responsive to sexual violence, and better for sex.