Alice Miller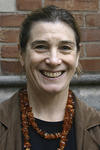 Clinician School of Public Health; Assoc Rsrch Scientist Law Sch; Lect MacMillan Center; Clin Prof School of Public Health
Address:
127 Wall St, New Haven, CT 06511-8918
Ali Miller is an associate research scholar in law and Robina Foundation Human Rights fellow at Yale Law School. She is an expert on women's rights, sexual and reproductive rights and health as a human right. Professor Miller has over 20 years of policy and advocacy experience with non-governmental organizations including Amnesty International, Human Rights Watch and Talking about Reproductive and Sexual Health Issues in India. Professor Miller's scholarship and policy work has addressed gendering humanitarian law, safe migration and anti-trafficking policies, criminal law, and specifically abolition of the death penalty, sexual and reproductive health and lesbian, gay, bisexual and transgender rights.
Professor Miller received her J.D. from the University of Washington School of Law. She served as co-director of Columbia University's Center for the Study of Human Rights. Professor Miller is a visiting professor at the Sexuality and Rights Institute in Pune, India and Istanbul, Turkey and at the Summer Institute on Sexuality, Culture and Society at the University of Amsterdam. She is a senior fellow at the Miller Institute for Global Challenges and the Law and the faculty director for the Women's Institute for Leadership and Development for Human Rights Initiative at the UC Berkeley School of Law. Professor Miller also sits on advisory boards for Human Rights Watch and the International Gay and Lesbian Human Rights Commission and serves as a manuscript reviewer for a number of journals, including American Journal of Public Health, Health and Human Rights: An International Quarterly Journal and Reproductive Health Matters.