Genesis Luigi-Bravo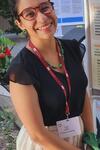 M.A Anthropology and Sociology, Geneva Graduate Institute, 2022.
B.A Clinical Psychology, Universidad de Venezuela, 2016.
Areas of interest: medical sociology, reproduction, autonomous health movements, science and technology studies, knowledge and expertise, gender and sexuality, mixed methods, Latin American studies. 
Génesis is a Ph.D. student in Sociology and Women, Gender, and Sexuality Studies at Yale University. Her work focuses on understanding how social movements, technology, and expertise influence people's experiences with healthcare. She received an M.A. in Anthropology and Sociology from the Geneva Graduate Institute and a B.A. in Clinical Psychology from Universidad Central de Venezuela. She has also consulted for civil society organizations and research institutes specialized in sexual and reproductive health issues like comprehensive sexuality education, abortion care, and digital health.
Her academic and professional practice nurtures from her work as an advocate with a decade of experience in grassroots feminist action. Her last research project, "Becoming abortion experts: making and transforming the professional boundaries of abortion care in Mexico," explores how the use of abortion medication reshapes the organization of work in Obstetrics & Gynecology and questions medicalized understandings of expertise. 
Publications:
Luigi-Bravo, Génesis and Kaur Gill, Roopan. 2022. "Safe Abortion within the Venezuelan Complex Humanitarian Emergency: Understanding Context as Key to Identifying the Potential for Digital Self-Care Tools in Expanding Access." Sexual and Reproductive Health Matters 29 (3): 2067104. https://doi.org/10.1080/26410397.2022.2067104
Luigi, Génesis and Lucena, Lenin. 2015. "Sexualidad y discapacidad intelectual: una aproximación a la investigación universitaria en el área metropolitana de Caracas." Psicología, 34 (2): 38-65. 
E-mail: genesis.luigibravo@yale.edu
Website: genesisluigi.com
LinkedIn: https://www.linkedin.com/in/genesisluigi