Inderpal Grewal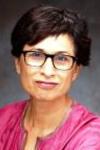 Professor Emeritus of Women's, Gender, and Sexuality Studies, and of American Studies
Inderpal Grewal is Professor Emeritus of Women's, Gender, and Sexuality Studies at Yale University. She is also Professor in the Ethnicity, Race and Migration Studies Program, the South Asian Studies Council, and affiliate faculty in the American Studies Program. She is one of the founders of the field of transnational feminist studies, and known for her prolific work on transnational feminism, cultural theory, feminist theory, and her extensive research of post-colonialism, South Asian cultural studies, mobility and modernity, nongovernmental organizations, human rights, and law and citizenship.
She is the author of Home and Harem: Nation, Gender, Empire and the Cultures of Travel (Duke University Press, 1996), Transnational America: Feminisms, Diasporas, Neoliberalisms (Duke University Press, 2005), and Saving the Security State: Exceptional Citizens in Twenty-First century America (Duke University Press, 2017). With Caren Kaplan, she has written and edited Gender in a Transnational World: Introduction to Women's Studies (Mc-Graw Hill 2001, 2005) and Scattered Hegemonies: Postmodernity and Transnational: Feminist Practices (University of Minnesota Press, 1994). With Victoria Bernal, she has edited Theorizing NGO's: States, Feminism and Neoliberalism (Duke University Press, 2014). She is one of the editors of the Duke University Press book series entitled Next Wave: New Directions in Women's Studies.
At Yale, she taught courses that included, Gender in a Transnational World, Feminist Postcolonial Theory, Feminist Theory: State and Non-State, Transnationalism and Mobility, Gender and Sexuality in Media and Popular Culture, Sex, Knowledge and Power (with Prof Joseph Fischel), Gender and Development, and Race and Caste (a Humanities seminar co-taught with Prof Hazel Carby).
Her ongoing publications and projects include essays on feminist theory, on European and American imperialisms, on the visual culture of gender, violence and counterinsurgency in India, and a book project on memoirs of bureaucrats in postcolonial India.