Rosie Bsheer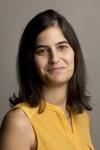 Assistant Professor, History
Fields of interest: 
Social and intellectual history of Ottoman Arabia and the modern Middle East; the Arabian Peninsula; urban studies; historiography; comparative colonialism.
Bio: 
Rosie Bsheer is a historian of the modern Middle East, whose teaching and research interests center on Arab intellectual and social movements, petro-capitalism and state formation, and the production of historical knowledge and commemorative spaces. She is currently working on a book manuscript, provisionally entitled, Crude Empire: Transnational Infrastructures of State Making in Saudi Arabia. A genealogy of the Saudi petro-state, Crude Empire explores the transnational political, economic, and social networks that have shaped state formation since the early twentieth century. Specifically, it focuses on the networks of merchant diasporas operating across the Middle East and the Indian Ocean, and the ways in which their global financial infrastructures have enabled the making of the authoritarian monarchy and economic and urban life therein. While petro-capitalism altered the nature of Saudi political power, this book shows the ways in which capitalist accumulation through diasporic financing as well as land speculation remained instrumental to the formation of the petro-state.
At the same time, professor Bsheer is working on another book project, provisionally entitled, Archive Wars: Materiality, Commemoration, and the Politics of History in Saudi Arabia. Archive Wars attends to practices of historical memorialization embodied in the protracted and ongoing production of Saudi national archives. It focuses on the production of archives as both historical sources and political forms of engineering; the truths they authorize; the discourses of history, social relations, and geography that they mobilize and circulate; and the power struggles and opposition they engender. Tracing the genesis of archival praxis to the 1960s, the book discerns the multi-sited struggles that have since taken place over the centralization of official history and their consequences to everyday political and social life.
Professor Bsheer's work has been supported by the Mellon Foundation, the American Council of Learned Societies (ACLS), the Social Science Research Council (SSRC), the Whiting Foundation, and the Institute for Religion, Culture, and Public Life. She received her Ph.D. in History from Columbia University (2014) and comes to Yale University from Swarthmore College, where she was a 2013-2016 visiting professor. She teaches graduate and undergraduate courses on oil and empire, social and intellectual movements, petro-modernity, historiography, and the making of the modern Middle East. She is Associate Producer of the 2007 Oscar-nominated film 
My Country, My Country
 and a co-editor of 
Jadaliyya
 E-zine, 
The Dawn of the Arab Uprisings: End of an Old Order?
 (Pluto Press, 2012), and 
Theorizing the Arabian
Peninsula
 (Tadween Publishing, 2013). 
Thematic: 
Comparative
Cultural
Empires & Colonialism
Historiography
Intellectual
Social
Spatial/Geographic