Sally Promey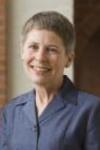 Prof American Studies; Prof Religion & Visual Culture; Deputy Director, ISM; Dir, Initiative for the Study of Material & Visual Cultures of Religion
Address:
409 Prospect St, New Haven, CT 06511-2167
Phone number:
203-432-6264, 203-432-7070
Sally M. Promey is Professor of American Studies; and Deputy Director and Professor of Religion and Visual Culture, Yale Institute of Sacred Music. She holds a secondary appointment in the Department of Religious Studies and an affiliation with History of Art. In addition, she directs the Yale Initiative for the Study of Material and Visual Cultures of Religion, generously supported by a grant from the Henry Luce Foundation. In 2009-2010, she was chair of the Program in Women's, Gender, and Sexuality Studies. Her scholarship explores the visual and material cultures of religions in the United States from the early colonial period through the present. Current book projects include volumes titled Religion in Plain View: Public Aesthetics of American Belief and Written on the Heart: Christian Material Practice in the United States. Other research focuses on American religious liberalism as well as on visual or sensory controversy and censorship, especially as elicited in relation to religion, sexuality, and the politics of vision. Among earlier publications, Promey's Painting Religion in Public: John Singer Sargent's "Triumph of Religion" at the Boston Public Library received the American Academy of Religion Award for Excellence in the Historical Study of Reli­gion and Spiritual Spectacles: Vision and Image in Mid-Nineteenth-Century Shakerism was awarded the Charles C. Eldredge Prize for Distinguished Scholarship in American Art. She is also contributing author and co-editor, with David Morgan, of The Visual Culture of American Religions (California, 2001). Promey is recipient of grants and fellowships including a Guggenheim Fellowship, a residential fellowship at the Woodrow Wilson International Center for Scholars, two Ailsa Mellon Bruce Senior Fellowships (1993 and 2003) at the Center for Advanced Study in the Visual Arts, and a National Endowment for the Humanities Fellowship for University Teachers. She serves on the editorial boards of Material Religion, American Art, and Winterthur Portfolio, the Council of the Omohundro Institute for Early American History and Culture, and the Advisory Committee of the Center for Historic American Visual Culture at the American Antiquarian Society.