The Women's, Gender, & Sexuality Studies Graduate Colloquium is a venue in which Yale graduate students from a wide range of disciplines present work that engages women's studies, feminism, gender and sexuality studies, lesbian and gay studies, and queer studies. At the Colloquium, graduate students give academic talks, present syllabi, discuss pedagogy, and engage in roundtable discussions on pressing issues and questions central to the field of Women's, Gender, & Sexuality Studies, with much lively discussion to follow.
The Women's, Gender, and Sexuality Studies Working Group is a subsidiary of the Colloquium. The purpose of the Working Group is to foster interdisciplinary discussion about current issues in the field of women's, gender, and sexuality studies by bringing together graduate students and and faculty at Yale who are working on topics at the intersection of their discipline and WGSS. This venue aims to introduce recent work in a variety of disciplines and to strengthen our understanding of how our own work might engage with emerging debates in this field.
2020/21 Co-conveners: Jacinda Tran and Patricia Ekpo
Fall 2020 Working Group Calendar
September 28 - Lisa Lowe, Samuel Knight Prof of American Studies, and Prof of ER&M
October 26 - Rod Ferguson, Professor and Chair of WGSS
November 30 - Joanne Meyerowitz, Arthur Unobskey Prof of History, and Prof of American Studies
 
Fall 2020 Colloquium
 
September 21
Chloe Sariego (Sociology): "Birth Rights and Wrongs: From Forced Sterilization to Forced Birth in the Control of Migrant Reproduction"
Drawing on legal documents, court transcripts, and archival materials from two case studies, this paper finds that the change from forced sterilization to forced birth in state-controlled migrant reproductive interventions can be understood as an alliance between the pro-life and anti-immigrant political movements in the resurgence of far-right populism.
Dana Hayward (Sociology): "Does Decriminalization Mean Destigmatization? The Influence of Law Reform on Media Portrayals of Sex Work in New Zealand"
How does decriminalization influence media representations of sex work? Based on an analysis of newspaper portrayals of sex work shortly before and after law reform in New Zealand, I find that decriminalization was associated with a decrease in labelling and stereotyping, but an unanticipated increase in certain forms of discrimination.
October 12
Olivia Polk (American Studies & African American Studies): "Happy Birthday, Marsha!: Tourmaline's Ritual Cinema and Black Trans* Feminist Historiography"
This paper will take up iterations of Tourmaline and Sasha Wortzel's film Happy Birthday Marsha as an art installation at the New Museum, as hybrid screening-performance at the Kitchen, and as a recent short film distributed by Frameline. I argue that the directors' iterative and ritual approach to filmmaking models the historiographical methods and ethics of black trans* feminism. Such a method occurs at the intersections of critical fabulation (Hartman 2008) and anti-homonormative transgender history (Stryker 2008).
Kelvin Ng (History): "Amok and Its Discontents: Native Madness, Colonial Masculinity, 1875-1947"
My presentation examines how the colonial cataloguing of Malay mental type was temporally coeval and ideologically concordant with the vigorous pathologization of male-male eroticism; the twinned specters of amok and sodomy were intertwined in important ways inasmuch as they both mark symbolic frontiers of colonial masculinity, as ethnographic and political representations of amok were marked by a tropological slippage between insanity and homoeroticism.
November 11
Rebecca Potts (Religious Studies): "Sticky Space: Toxicity and Time in Postindustrial New Haven"
The clock factory-turned strip club building in New Haven, Connecticut literalizes and materializes the tensions that arise between (disorderly, disgusting) sticky space and (orderly, clean) linear time, allowing us to see the ways a Protestant Christian-turned secular American temporal morality structures and (de)values space and the ways spaces rebel against such orderings. This building—sticky with radium, sugary drinks, body glitter, bodily fluids, pleasure, resistance, and exploitation—rebels against the triumphant march of time in favor of a clinging, lingering spatial materiality.
Alexandra Thomas (History of Art & African American Studies): "Zanele Muholi's Dark Lioness: (Post) Colonial Domesticity, Maintenance, and Kink"
This presentation adduces transnational black feminism, social reproduction theory, and queer of color writing on kink to explore photographs from South African artist Zanele Muholi's Somnyama Ngonyama, Hail the Dark Lioness series. Muholi grapples with the politics of deviance and maintenance through their self-portraits with materials that are simultaneously associated with kink and domesticity of (neo)colonialism's libidinal investment in the domestic sphere and the visual possibilities of reimagining this sphere to queer and kinky ends.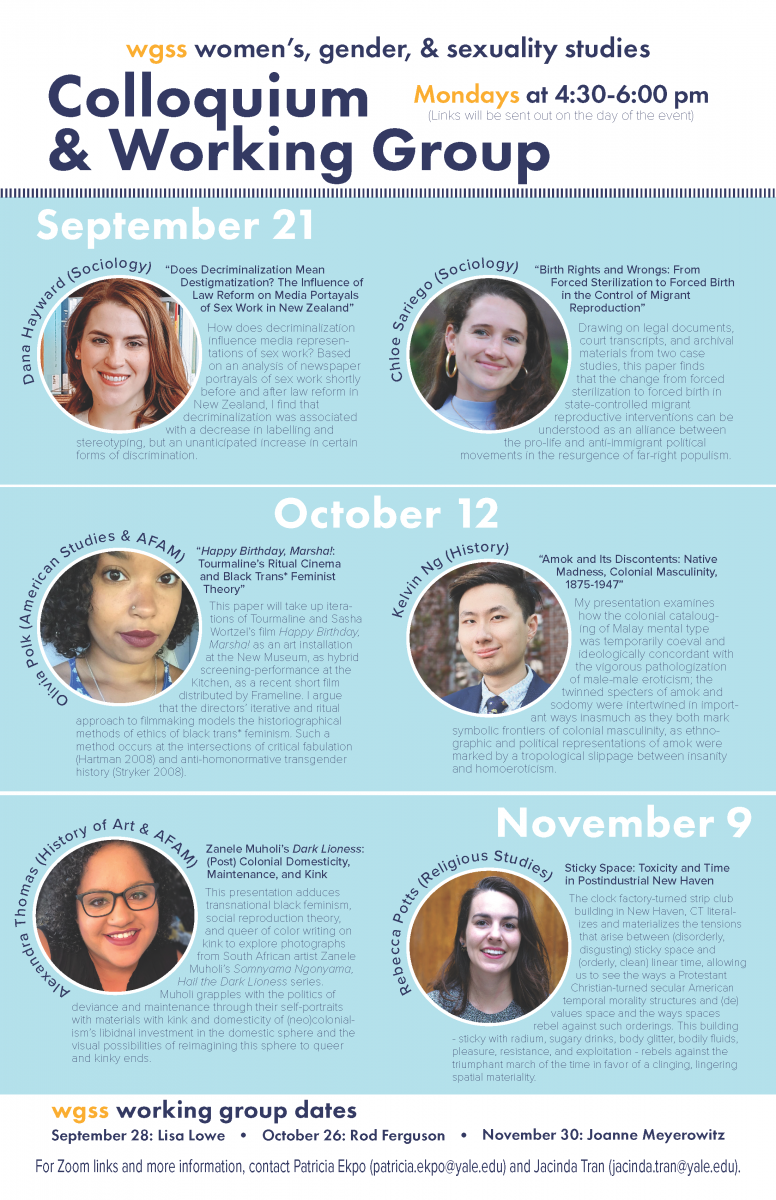 Mondays at 4:30-6pm via Zoom (links will be sent out on the day of the event)