The Women's, Gender, & Sexuality Studies Graduate Colloquium is a venue in which Yale graduate students from a wide range of disciplines present work that engages women's studies, feminism, gender and sexuality studies, lesbian and gay studies, and queer studies. At the Colloquium, graduate students give academic talks, present syllabi, discuss pedagogy, and engage in roundtable discussions on pressing issues and questions central to the field of Women's, Gender, & Sexuality Studies, with much lively discussion to follow.
The Women's, Gender, and Sexuality Studies Working Group is a subsidiary of the Colloquium. The purpose of the Working Group is to foster interdisciplinary discussion about current issues in the field of women's, gender, and sexuality studies by bringing together graduate students and and faculty at Yale who are working on topics at the intersection of their discipline and WGSS. This venue aims to introduce recent work in a variety of disciplines and to strengthen our understanding of how our own work might engage with emerging debates in this field.
2019/20 Co-conveners: Jacinda Tran and Patricia Ekpo
Fall 2019 Working Group Calendar
September 23 - Alika Bourgette, visiting LGBTS Research Fellow
October 14 - Laura Barraclough, Sarai K. Ribicoff Associate Professor of American Studies
November 4 - Miriam Rich, lecturer in the History of Medicine
Fall 2019 Colloquium
September 30
Aanchal Saraf, American Studies
Presentation Title:  Nuclear Horror Story: Racialized Zombies, Imperial Ruin, and the S/pacific Performance of Marshallese Feminisms 
Abstract: In the 1940s-60s, the United States detonated 67 nuclear weapons within the Marshall Islands. This paper looks at the abstraction of Pacific Islanders in the wake of nuclear colonialism, feminist and trans-indigenous organizing in response, and the contemporary performance poetry of a Marshallese activist that reimagines s/pacific solidarities.  
Jacinda Tran, American Studies
Presentation Title: Picturing Amerasian Homecoming: Paternalism, Disability, Race, and the Violence of Care 
Abstract: 
When the US withdrew from the Vietnam War, American GIs also abandoned their half-Vietnamese children. I analyze how the state leveraged the image of Lê Văn Minh, a half-white Vietnamese child stricken with polio, to recuperate American masculinity through the Amerasian Homecoming Act.
October 21
Xavier Lee, Comparative Literature
Presentation Title: Perverted Heterosexualities: Fanon and Cleaver on Sex and Racism 
Abstract: 
In this paper, I provide a reading of Eldridge Cleaver's Soul on Ice and Frantz Fanon's Black Skin, White Masks in order to illuminate how both authors explore the role of racism and colonialism in "perverting" the allegedly normative actualization of heterosexual, homoracial and patriarchal relationships.
Colton Valentine, English
Presentation Title: 
Inversion
À Rebours
: Seeking Subjecthood in the
Fin-de-Siècle
Novel
Abstract: 
In 1889, Émile Zola received a letter from a self-professed "invert." Previous scholarship focuses on its publication by sexologist Dr. Saint-Paul; I foreground the text itself. I analyse its claim for representation in
Les Rougon-Macquart
and its class politics through a counterfactual: Why not identify with Joris-Karl Huysmans's aristocratic dandy?
November 11
Brian D. Earp, Psychology
Presentation Title: Why the U.S. law banning 'female genital mutilation' was ruled unconstitutional, and what can be done about it 
Abstract: The US federal law prohibiting "female genital mutilation" was recently struck down as unconstitutional. Why did this happen? What was the context? And what can be done to protect non-consenting children from genital cutting going forward?
Daniel Swain, English
Presentation Title: A Step Away From Them: memory, class and queer citationality in the poetry of O'Hara and Koestenbaum 
Abstract: Early critics dismissed Frank O'Hara's name-dropping as "wearisome" and "tedious." Contemporary poet Wayne Koestenbaum, however, views O'Hara's work as a codex of gay bourgeois sociability. Reading Koestenbaum's own allusiveness as a citation of citationality, I consider the relationship between archiving of queer memory and curating cultural capital.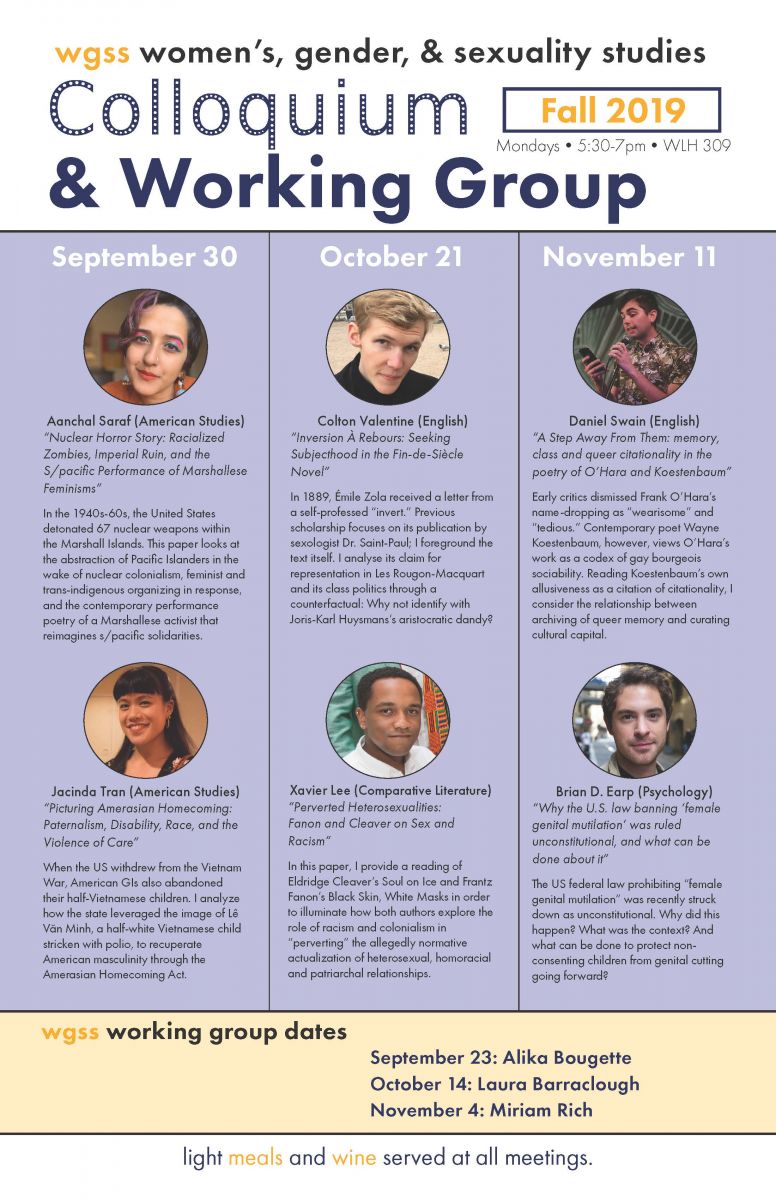 Spring 2020 Working Group Calendar
February 17 - Mary Lui, Professor of American Studies & History (* this event will begin at 6:15 PM)
March 23 - Crystal Feimster, Associate Professor of African American Studies, History, and American Studies CANCELLED, rescheduled date TBD
March 30 - Susan Stryker, Presidential Visiting Fellow, Women's, Gender, and Sexuality Studies
CANCELLED, rescheduled date TBD
April 20 - Lisa Lowe, Samuel Knight Professor of American Studies
Spring 2020 Colloquium
February 3
Sophia Helverson, French
Presentation Title:  Nina Bouraoui's Archaeology of Eros
Abstract: Of her homosexuality, Nina Bouraoui declared: "il faut l'occuper, cette nature-là, comme on occupe un territoire (it is essential to occupy this nature like a territory)." In this paper, I argue that Bouraoui's latest novel Tous les hommes désirent naturellement savoir (All men desire by nature to know) (2018) constitutes that occupation. To combat homophobia, the novel takes not only bigotry, but also scholarship to task. 
Jason Douglass, Film and Media Studies
Presentation Title: Troubling Texts, Resistant Readings: Looking Anew at Isu (1964) and Aosu (1964) 
Abstract: In this presentation, I explore how performances by several women in experimentally animated films from midcentury Japan invite resistant readings of otherwise misogynistic texts by disrupting various thematic, aesthetic, and acoustic aspects of those films. Artists discussed will include Ono Yōko, Kuri Yōji, and Hiroike Akiko.
March 2
Maile Speakman, American Studies
Presentation Title: Queering and Decolonizing El Paquete: Black Cuir Cinema Publics in Contemporary Havana 
Abstract: Cineclub Cuir is an itinerant cinematic event that shows cuir, avant garde, and Afrodiasporic media in Havana. Through positioning Cineclub Cuir's archives with those of el paquete, a commercialized global media product, I consider how Habaneros leverage digital archival practices to create new kinds of cuir publics in Havana's cityscape.
Wendy Mallette, Religious Studies
Presentation Title: 
Disciplinary Temporalities, Temporal Drag, and the Lesbian Feminist Killjoy
Abstract: 
I consider the temporalities of queer genealogies in religious studies alongside the lesbian-feminist killjoy. These genealogies generate preoccupations with (anti-)essentialism that propel queer work in religion and repeat an invocation and erasure of black lesbianism. I turn to the lesbian-feminist killjoy's negativity to slow progressive temporalities in religious studies. 
April 6
Sarah Glenski, Spanish & Portuguese
Presentation Title: Gerda Taro, Josefina Aldecoa, and the Spanish Civil War 
Abstract: When Gerda Taro, a German photojournalist, covered the Spanish Civil War (1936-1939), Josefina Aldecoa was just a child. Decades later, Aldecoa began writing about the war. In this presentation, I analyze the ways in which Taro and Aldecoa remember the war, particularly the experiences of women and children.
Sasha Sabherwal, American Studies
Presentation Title: Mobile Masculinities: Caste and Religious Authority in the Sikh Diaspora of the Pacific Northwest 
Abstract: In this paper, I problematize Jat (landowning caste) masculinities in the Sikh diaspora of the Pacific Northwest. I draw from ethnographic research to unsettle Jat authority in transnational religious spaces, trace the conspicuous absence of women, and explore the gendered and casteist dimensions of religion and migration in the region.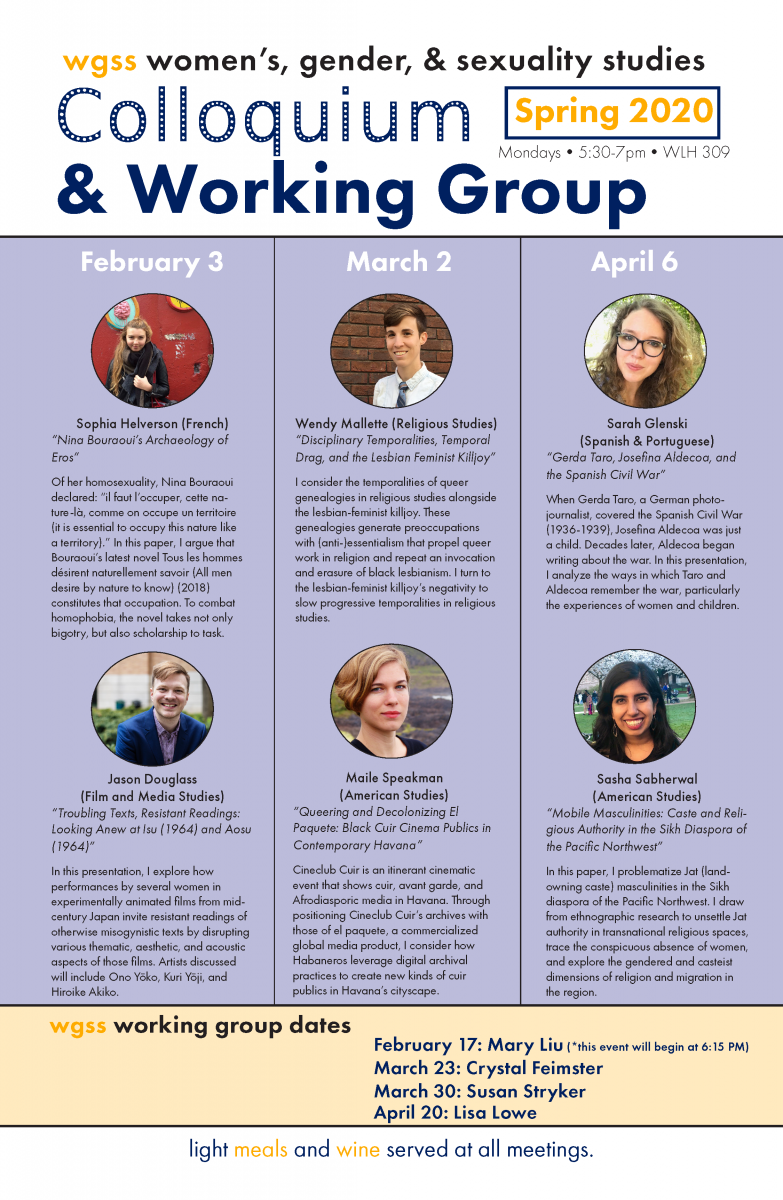 All events take place at 5:30 PM in William L. Harkness Hall (WLH), Room 309, 100 Wall Street, unless otherwise noted. All events are free and open to the public.